Helping solve environmental waste – reusable, recyclable, traceable packaging to protect our future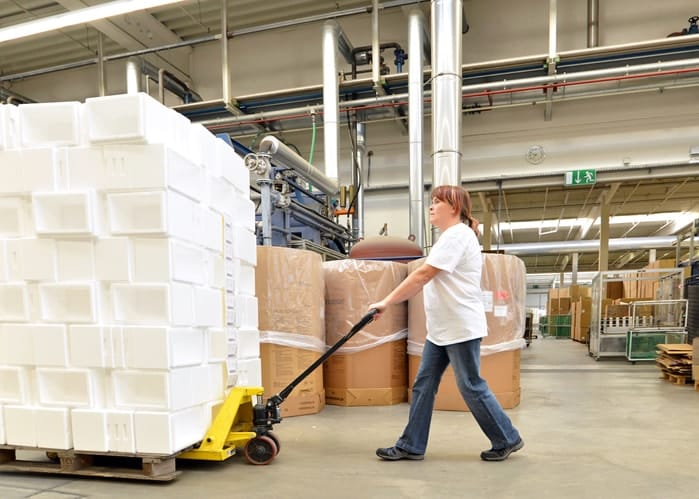 Case Background
Globally, the seafood industry is responsible for approximately half a billion single-use polystyrene fish boxes entering landfill, the ocean, and the food chain every year. The environmental, economic and health impacts of polystyrene are immense, and its continued use is no longer environmentally responsible or socially acceptable. Polystyrene dominates the packaging industry (and land-fill sites) world-wide, largely because there seems to be few, if any, alternatives with the same desirable characteristics such as being light weight, and thermally effective. The TomKat KoolPak® is the creation of innovators and fishers Tom and Kath Long. Their family-owned business, TomKat Line Fish, is a sustainable wild catch, line fishing company that operates on the outer Barrier Reef in Far North Queensland. The KoolPak was born from tenacious determination and respect for both their product and their surrounding environment. What started as a solution to deliver wild line-caught fish has revolutionised the packaging and transportation of temperature-sensitive and perishable products while protecting our industry and our future.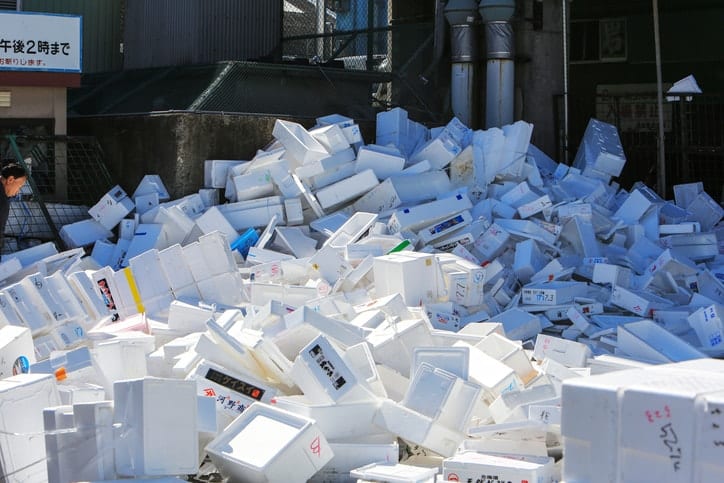 THE ACTIVITY HAS ADDRESSED A HIGH PRIORITY FOR THE SEAFOOD INDUSTRY.
The time for change is now
Globally, many in the seafood industry have been looking for an environmentally responsible, thermally equivalent, and sustainable replacement to Expanded Polystyrene (EPS) fish boxes for years. While a few years in development, the timing for the new product could not be better as the demise of EPS as it is officially known, in imminent. Under Australia's National Plastics Plan 2021, EPS in food and beverage containers and in loose fill and moulded consumer packaging will be phased out by December 2022. By 2025, 100 per cent of packaging – including that used for the commercial transport of goods – must be reusable, recyclable, or compostable. The seafood industry needs an alternative which is both cost competitive and that does not create an alternative waste problem. The seafood industry globally is responsible for approximately half a billion single-use polystyrene fish boxes entering landfill and polluting the ocean every year – that's enough to circumnavigate our planet 6.5 times. Consider other primary producers, and the pharmaceutical industry and the volume of waste is overwhelming. Any alternative solution must be recyclable, re-useable and have sufficient thermal properties to be a viable replacement for use in, and periodically out of, the cold chain. Some potential alternatives have tried to address the need; however they are largely still single use, lack durability and have not had proven thermal performance. Poor temperature management is one of the greatest risks for perishable foods during cold chain logistics. It suffers from poorly managed service level, inadequate cold chain traceability and visibility. The lack of real time information as well as lacking insight into the possible impact of cold chain incidents on fish boxes quality are still the biggest challenges faced by seafood cold chain logistics.
THE ACTIVITY WAS CHALLENGING, REQUIRED A HIGH LEVEL OF INNOVATION, AND DIRECT ACTION AND/OR EXTENSION TO ACHIEVE THE PLANNED OUTCOME
Following a road not yet made
The use of polystyrene packaging is endemic across the world. Moving any business, including those in the seafood sector to new environmentally sustainable packaging requires a cost effective equal. To meet this need, Tom and Kath had to venture into uncharted territories of packaging design and manufacturing. The challenges included finding lightweight materials that could be re-used and recycled and which would provide equivalent or better thermal performance than polystyrene for transportation and storage of temperature sensitive goods such as seafood. The resulting TomKat KoolPak® consists of three unique components which have been individually designed to work as one unit: the frame, the interior, and the technology. The relationship between the three components plays a vital role thermally and in delivering many other desirable benefits. This is critical to protect goods against periods when they might be left out of the cold chain as they travel to market, such as time spent on the tarmac waiting to be loaded into planes.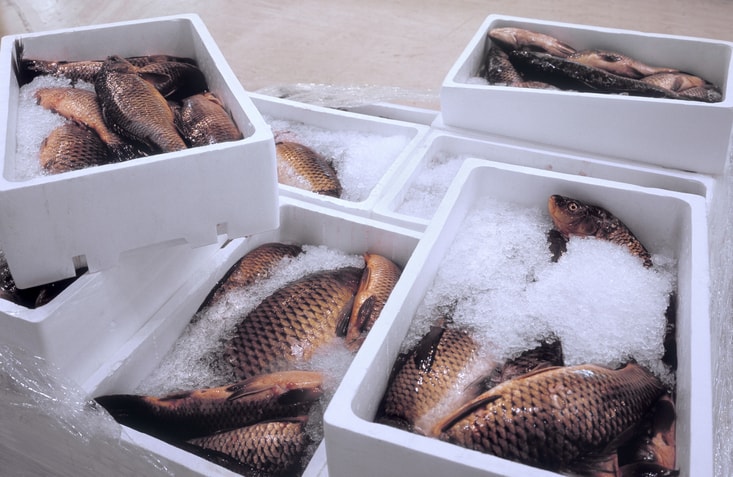 THE ACTIVITY WAS END-USER DRIVEN AND PRODUCED OUTCOMES THAT CONTRIBUTED TOWARDS PROTECTING OR REHABILITATING AQUATIC ENVIRONMENTS, OR REDUCING ADVERSE SEAFOOD INDUSTRY IMPACTS ON THE ENVIRONMENT.
Local fisher driven solution to a global problem
TomKat Line Fish aim to fish sustainably, reduce wastage and maintain the health and resilience of the Great Barrier Reef. In 2016, they made the transition from selling their sustainably line-caught premium reef fish wholesale to Seafood Processing Accreditation and sales direct to chefs, restaurants, and the public. Tom and Kath's ethos is sustainably fishing for the future, so they needed an environmentally responsible alternative to transport their own premium quality reef fish direct to market. Using polystyrene did not fit with their ethos. When they realised there simply weren't any viable alternatives, they did what all needs-based innovators do: they set out to invent their own "We had the idea, and we had the proof of concept, but the project was very challenging."
Tom was a plumber before turning to fishing and knew of several insulation materials that he believed could be repurposed to provide an alternative packaging solution. That was the challenge and where the research and development was focussed through a new company, TomKat Global Solutions. Ensuring that the boxes could be re-used, and the materials could be recycled was essential to meet the 'cradle to cradle' principles of sustainability. They wanted a durable product, that could be cleaned and re-used many times without the need for single-use plastic liners to protect against leakage, and that could be packed flat for easy storage and transportation. This led them to focus on fundamental reuse and recycling processes for the KoolPak system. They have ensured no material is co-mingled: a significant issue with many alternative products as it limits any post-use recycling. The material spec for the KoolPak has been developed to be fully recyclable, delivering thermal performance in a form that exceeds market needs and expectations.
Re-use has many advantages for the user and the environment. Economically, users benefit as with each re-use they are working toward cost negative packaging, and the environment benefits as ultimately less boxes need to be made. Simply, if each KoolPak is used five times, only 2 million KoolPaks need to be made to meet the current Australian use of 10 million polystyrene boxes each year.

What is the TomKat KoolPak?
The TomKat KoolPak® is the creation of innovators and fishers Tom and Kath Long. Their family-owned business TomKat Line Fish is a sustainable line fishing company that operates on the outer Barrier Reef in Far North Queensland. TomKat KoolPak®, a tough, lightweight, container with all the thermal qualities needed for transporting and storing fresh foods and other cold chain products such as medicines. The technology behind the product development is not just reusable and recyclable; the inclusion of NFC tags in all 3 components – the box, lid and thermal liner – allows each to be scanned off post multiple uses at an authorised recycling centre, so clients can validate their environmental credentials It is an environmentally responsible, robust, and stackable lightweight thermally insulated box. With excellent proven, reliable thermal performance, and designed for multiple use, the KoolPak system protects product, preserves the environment, and improves social license. The patented, sealed antimicrobial food-grade liner provides additional protection from contamination. Flat packable for efficient transportation and storage and 100% recyclable, the KoolPak embraces the cradle-to-cradle principles of sustainability.
Independent research by the Queensland Department of Agriculture and Fisheries released official test data illustrating the effective thermal performance of the KoolPak. The results below show the KoolPak has better thermal performance.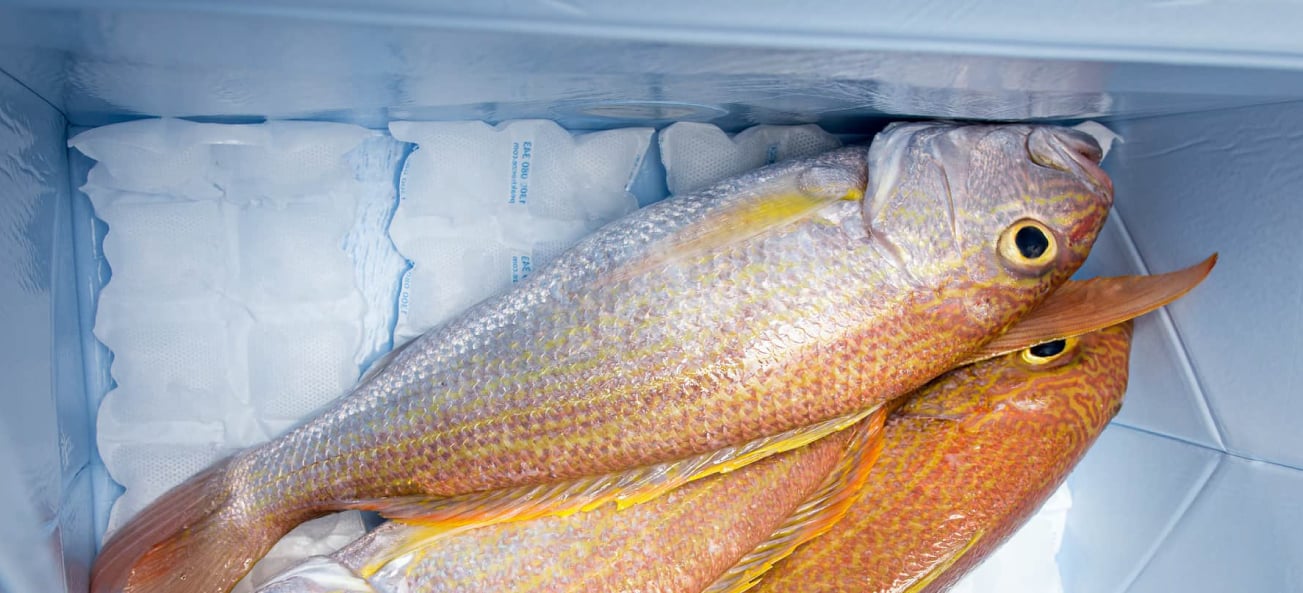 The KoolPak App uses NFC & block chain technology to track each KoolPak through its entire lifecycle, in partnership with SAG we have further developed battery-less NFC Temp Sensor Tag to suit our application, so clients can prove the provenance of their product, be confident in the safety and freshness of their consignment and avoid the added expense of food waste. All you need is a mobile phone. By 2025 Australia has a mandate to achieve more sustainable packaging. This data helps businesses validate their goals on sustainable packaging. The KoolPak has a larger interior capacity than an equivalent sized EPS box, as the EPS box has thicker walls, while also having airline approval for 25kg which is 25% more than an equivalent sized EPS box. A strong focus on environmental credentials and the product being both recyclable and designed for re-use has a significant economic benefit for the user. In-market testing indicates KoolPaks can easily be re-used 10 times; some trials have re-used boxes more than 20 times. The flat pack design offers additional savings by minimising transport costs and storage space required for empty boxes between use.
Packaging plus + now with built in next generation tracking technology
The KoolPak takes packaging to another level by building traceability and temperature sensing into a thermal container via Battery-less NFC. Combined with the KoolPak app, developed by LUK Solutions, using Block chain technology to track each KoolPak through each re-use to eventual recycling. Further delivering on the true cradle to cradle principles of sustainability, the materials for the outer lid and base, which are sourced from 90% recycled polypropylene, can be pelletised, and recycled to become new lids and bases, and the materials from the thermal liner can be recycled into new products. The track and trace technology means that TomKat Global Solutions can assign and follow every KoolPak sold to a purchaser. With this level of technology, not only can clients prove the provenance of their product, but they can also scan off their KoolPaks post multiple uses at a recycling centre, validating the cost benefits and reporting on their environmental credentials. It also provides TomKat a way of tracking products that are not being recycled – providing a higher level of environmental reporting.
In parallel with SAG and improvements to temp sensor tag capability, LUK has made significant advancement with our software that has allowed gate scanning equipment developed with Feig Electronic to read multiple tags at once, at speed, including temperature sensor tags. To maximise users scanning the boxes, each is embedded with a battery free temperature sensing tag so users can monitor the temperature of their consignment without the need to open the box.
The block chain tracking and traceability function has proved popular in market tests. For producers, for instance, it has the potential to provide data from the fisher or farmer along the entire supply chain to a restaurant where the data can be translated into a QR code and added to a menu. For Tom and Kath, personally, it also means that any part of a KoolPak washed-up on a beach can be tracked backwards to work out how it got there. It is all part of the Longs' ethos of "social responsibility in action" which underpins the business.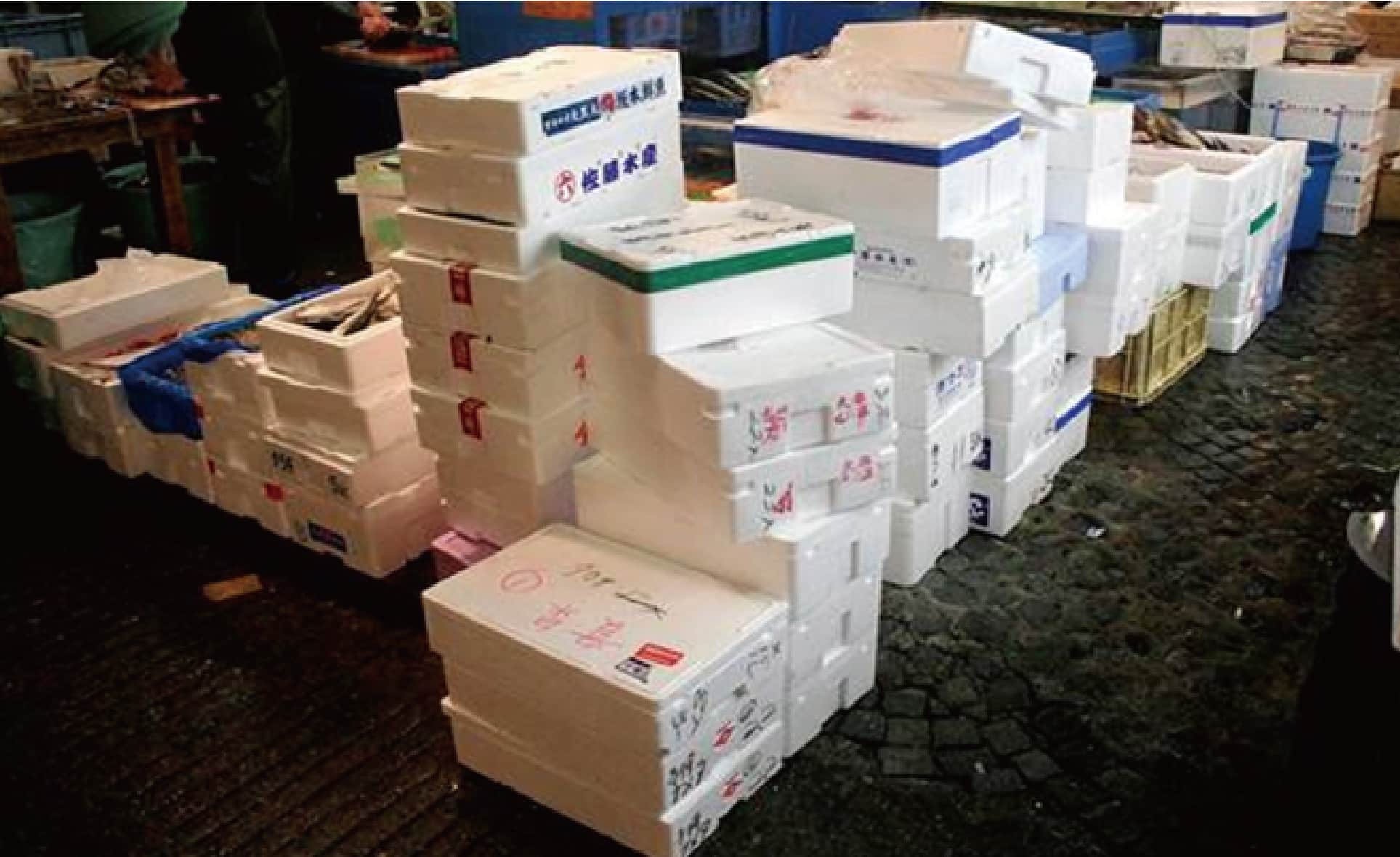 THE ACTIVITY INVOLVED OTHER USERS OF THE ENVIRONMENT
From fish to pharmaceuticals, chicken to chocolate and beef to berries, if it is temperature sensitive or perishable it will require the product to be kept fresh and safe. So, the problem faced, is not just limited to the seafood sector. The KoolPak has brought together a range of users and manufacturers with a single vision to create a sustainable alternative packaging system. As fishers, Tom and Kath initially looked to target the seafood industry, but the KoolPak goes beyond seafood. They quickly realised that the KoolPak has benefits for every sector which meant the KoolPak could have a much greater role, orders of magnitude greater, in removing polystyrene and single use plastics from the environment.
The production and transport of food is a major global industry, and it is projected to grow strongly in Australia over the next 20 years as export capacities expand. In 2018, more than 23 million tonnes of foodstuffs worth $42 billion based on farm gate values passed through the Australian cold food chain. The TomKat KoolPak® is designed to assist producers deliver their products fresh and safe, and with the KoolPak App, they can also prove the provenance of their produce.
Spill over environmental benefits can also be attributed to the KoolPak for other sectors. Transport logistics have considerable environmental impact in the use of fuel, and emission of greenhouse gases. Existing polystyrene packaging is inefficient to transport to customers before they even use it. KoolPaks can be delivered by the pallet, flat packed for efficient transportation. Each pallet holds up to 140 KoolPaks which is approximately three times as many boxes as an equivalent sized polystyrene box or other option which is not flat packable.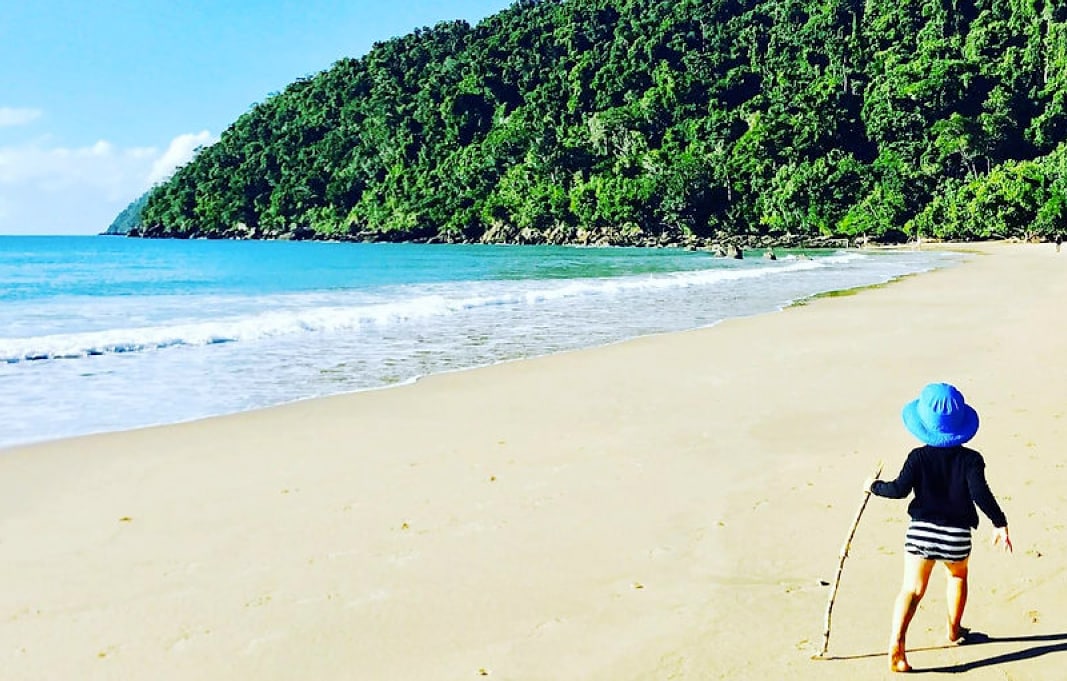 Our Track & Trace Supply Partners - Environmentally Focused
The KoolPak's sustainability credentials have already been supported by the World Wildlife Fund and the global NLA International – a Blue Economy solutions company. Local production and adoption will also help Australia meet its national commitments to ensure 100 per cent of packaging is reusable, recyclable, or compostable by 2025.
"We are all users and have a role to play in protecting and improving the environment. We live in a pristine part of the world. We want to keep it that way for generations to come."
SAG: Originally introduced to us by Texas Instruments, SAG has been instrumental in providing solutions for our NFC requirements, with specific focus on the battery-less NFC temp sensor tag. Our tag requirements are challenging, particularly when you consider the primary reading device is a mobile phone, multiple layers of material to read through and no battery. Other alternatives to NFC such as QR Codes, bar code etc were evaluated, however only NFC provides an effective way of registering the 3 KoolPak components as an assembled unit to a data base or blockchain in battery-less form.
NFC is central to our track & trace, SAG is 'best in business' not only from a technical & development perspective but also with tag manufacture and ability to supply in volume.
LUK Solutions: As with SAG, LUK have been on-board the project from the very start (2019) and instrumental in development of the KoolPak App, integration of NFC and gate scanner technologies within that. In combination they have systematically worked through the significant challenges involved, finding workable solutions to complex problems.
A standout for us, both SAG & LUK saw the value of the project even though it was a 'start-up'. They took on the risk of committing resources & time, we are very grateful to have them by our side and sharing the vision of KoolPak.